The Save Our Hide Conservation Fund was established in 2008 to allow donations to be set aside to complete conservation work on important artifacts in the Museum's collection. The Museum has identified more than 100 objects in its collection that are in need of professional preservation and conservation; however, this work is extremely expensive and often falls by the wayside due to financial constraints. Conservation efforts supported by this fund ensure that Lam Museum's objects will survive to educate future generations.
Contributions to the Conservation Fund have been used to support the following projects:
Conservation of a mid-19th century Comanche painted hide
Conservation of a Yan ka di puppet, a ceremonial object from Mali
Purchase of appropriate materials to create a state of the art storage environment for the entire collection
Conservation of a pair of Barong Sai masks from Bali
Conservation of a Pima ceramic cup
Conservation of a Yoruba house of the head, or ile ori
Conservation of a stone Coptic icon from Ethiopia
Construction of a mezzanine level in our storage facility to provide the best care and storage of our collections
Materials needed to move collections to new custom-designed storage space in the Museum's new Palmer Hall location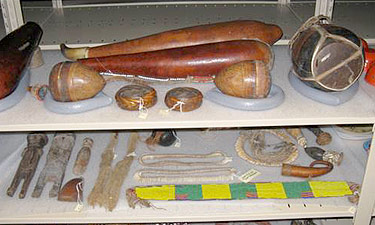 2021 Project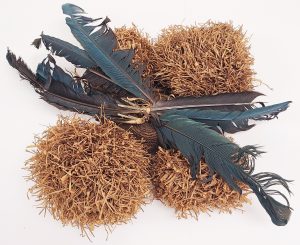 This year, we are raising money to professionally conserve a Kuba hat from the Democratic Republic of the Congo. This type of hat with rounded tufts of raffia at the four corners is one part of extensive regalia worn specifically by titled soldiers known as iyol. The hat is more than 100 years old; and due to its condition, it must be permanently stabilized before it can be exhibited. The help of our supporters is essential to completing the conservation of this important artifact.
Please contact Assistant Director Sara Cromwell at 336.758.5282 or lammuseum@nullwfu.edu to learn more. Donations to the Conservation Fund are fully tax-deductible.