The Lam Museum's permanent collection consists of nearly 30,000 archaeological and ethnographic artifacts. Objects come from more than 90 countries and 350 cultures. The collection includes household and ceremonial items, textiles, ceramics, hunting and fishing gear, and objects of personal adornment. The artifacts span the globe and the centuries.
You can explore the collections with our Searchable Collections Database and browse some featured collections below.
Timothy S. Y. Lam Collection
Wake Forest University alumnus Timothy S. Y. Lam ('60) donated his collection of more than 500 Chinese ceramics made during the Tang Dynasty (A.D. 618-907) to the Museum of Anthropology in 2012. The collection of bowls, ewers, cups, teapots, small toys, and other pieces represents the largest and most comprehensive group of ceramics from the Changsha kilns in the United States. Kiln inspectors discarded many of the pieces because of slight flaws in shape or finish. This preserved them in pristine and sometimes unbroken condition, unlike pieces that passed inspection and then were sold, used, broken, and discarded. In 2021, the Museum was named in Mr. Lam's honor and in recognition of the Lam family's support.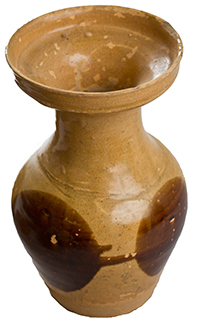 Wachovia Historical Society Collection
In January 2005, the Wachovia Historical Society and the Mission Society of the Moravian Church, South, Inc., donated more than 20,000 archaeological and ethnographic objects to the Museum of Anthropology. This important gift includes many artifacts collected by the Reverend Douglas Rights, Moravian minister, president of the Wachovia Historical Society from 1928 to 1956, and founder of the North Carolina Archaeological Society. The collection also includes objects gathered by Moravian missionaries and local residents during their travels, as well as a few Native American artifacts collected for the Smithsonian Institution by early ethnographers.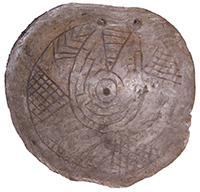 Nicolas Salgo Collection
Nicolas Salgo, Ambassador to Hungary and Ambassador-at-Large during the Reagan Administration, collected saddle rugs, horse covers, and saddles from areas along the Silk Road stretching from China to Turkey. Museum exhibitions in the United States and Europe and three catalogs published in Italy, Germany, and Hungary have featured selections from this collection. The objects are primarily from the 19th and early 20th centuries. The Salgo Trust for Education donated 99 pieces to the Lam Museum of Anthropology in 2011.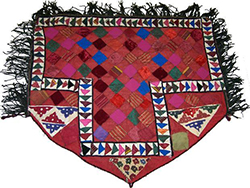 David and Karina Rilling Collection
David Rilling, a Pennsylvania physician and art collector, and his wife, Karina, have donated more than 120 ethnographic objects from West and Central Africa, Bura funerary cylinders from the 4th through 11th centuries, and ethnographic ceramics from Papua New Guinea to the Museum. Many of the African objects are associated with royalty and ancestral leadership.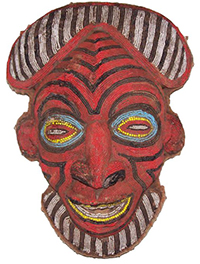 James Lankton Collection
Dr. Lankton is an anesthesiologist, sculptor, bead scholar, and former Winston-Salem resident. On a visit to Presbyterian clinics in Zaire (Democratic Republic of the Congo), Lankton met the Kuba king, Kwete Mbweeky III, and purchased a few objects. The king contacted him again in 1989 because he wanted to finance construction of a water system by selling some treasures from the storehouse of his predecessor, Mbope Mabintschi, who ruled from 1939 until 1969. Lankton purchased 200 Kuba objects and donated more than 140 of them to the Lam Museum of Anthropology. He later donated more than 275 objects from Brazil, including votive sculptures from Caninde and artifacts from various tribes.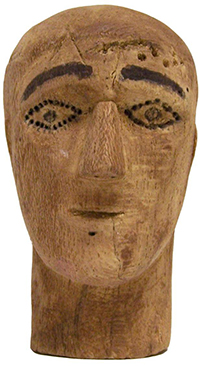 Stanley Bohrer Collection
Dr. Bohrer spent 18 years teaching radiology residents in countries in Africa, Asia, and Latin America before coming to the Wake Forest University School of Medicine. He was a member of the Museum of Anthropology Advisory Board from 2004 until 2012. Bohrer collected objects made by traditional artisans during his foreign travels. He has donated more than 100 objects to the Museum, nearly all from West Africa.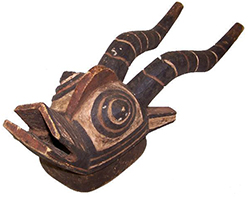 MAW Collection
MAW is a group of three collectors who wish to remain anonymous. Since 2007, they have donated more than 350 well-documented ethnographic objects from the island of New Guinea; 25 Kuna healing dolls from Panama; and, assorted objects from Africa, Central America, and South America to the Museum.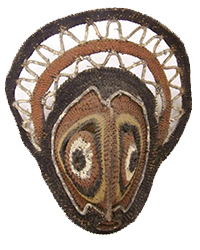 West Mexican Collection
Hundreds of earthenware pots and other pre-Columbian artifacts from ancient West Mexico (the modern states of Nayarit, Colima, Jalisco, and Michoacán) are part of the Museum's collections. The objects, most dating from 300 B.C. to A.D. 400, came to the Museum in 2005, but entered the United States many years prior to that date. The collection of 1,040 pieces includes 162 complete ceramic vessels, ceramic figurines, greenstone beads and necklaces, obsidian spear and arrow points, knives, and grinding stones. The artifacts are from ancient tombs in West Mexico and from sites in Central Mexico.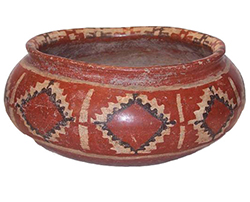 Gordon Hanes Collection
Gordon Hanes, former president and chief executive of Hanes Corp., helped build his family's hosiery business into a Fortune 500 company and a household name. Mr. Hanes helped to establish the North Carolina School of the Arts in Winston-Salem and collected ethnographic art, which he donated to NC Museum of Art, Diggs Gallery, and others. Mr. Hanes gave the Museum 199 objects from Central America, Africa, Oceania, North America, and Asia in the 1980s.