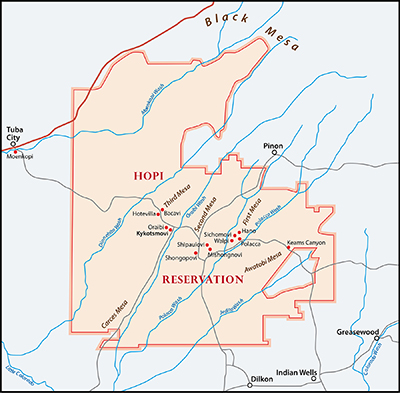 The Hopi Tribe of northeastern Arizona live on reservation lands that encompass more than 1.5 million acres, with twelve villages located in three regions called First Mesa, Second Mesa, and Third Mesa. The villages share similar language, customs, and traditions, but each conducts its own ceremonies and has features that make them unique.
The Hopi population is approximately 14,200 and they divide themselves into 34 clans or family groups. It is estimated that there are around 5,000 speakers of the four dialects of the Hopi language which are First Mesa, Mishongnovi, Shipaulovi, and Third Mesa. Today there are several revitalization programs to ensure the Hopi language is not lost.
The Hopi have a long history in the arts of weaving, pottery making, basket making, kachina carving, and silversmithing. Although themes and ideas are similar within each art form, there is great diversity in styles, materials, and techniques among the artists and villages.
An emphasis on mass production of objects for the tourist trade led to a decline in the quality of Hopi arts by the turn of the 20th century. In an effort to reinvigorate Hopi art making, collector Mary-Russell Colton launched the first Hopi Craftsman Exhibition in July 1930, showcasing high quality Hopi creations. Artists were encouraged to create works with quality materials and traditional methods. They were also asked to sign or mark their pieces.
The Hopi Craftsman Exhibition became an annual event that launched the careers of many Hopi artists. The Exhibition's name was eventually changed to the Hopi Marketplace. The Marketplace happens every July and continues to be an important showcase for Hopi artists and culture.
Each Hopi art form is influenced by the traditions of the past. Hopi artist are passionate about keeping the traditional arts alive, but they are also reimagining them for today. The fame of elder artisans inspires younger Hopi men and women to continue exploring and experimenting with ways to integrate traditional ideas with modern materials. Hopi artists are creating exciting works.
Explore the sections of this exhibit: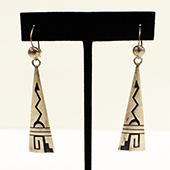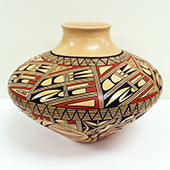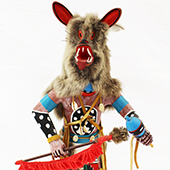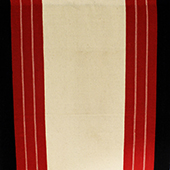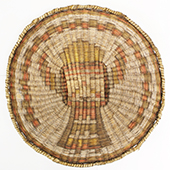 We would like to say a huge thank you to Mr. Frank Warfield. Without his generous loan this exhibit would not have been possible. The jewelry and kachinas he loaned the Museum were collected in the late 1970's by his parents, Mr. and Mrs. Walt Martin. The pottery was collected from 2000 to 2010 by Mr. Frank Warfield and Mr. Donald Morrow.
We also thank Wake Forest University students Jillian Liu ('24) and Emily Conway ('22) for their contributions to this exhibit.
This exhibit was on display from February 15, 2022 to January 28, 2023.