Curriculum-Based Programs
The Lam Museum of Anthropology offers a variety of hands-on curriculum-based programs for grades K through 12. Programs use images and artifacts from the Museum's collections to teach students about peoples and cultures. All programs are designed to support the Competency Goals and Objectives of the NC Standard Course of Study.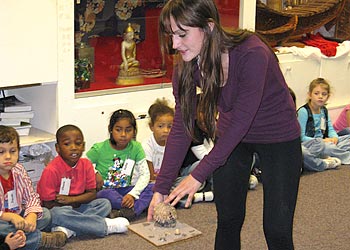 Curriculum-based programs are available in the Museum for all groups and as outreach programs at locations within a 30 mile radius of the Wake Forest campus. Programs are also available live via Zoom or the online platform of your choice.
Program Offerings
Program descriptions and the curriculum standards they meet can be found here:
Elementary School Programs
Middle & High School Programs
Although the programs are designed for specific grade levels, they can be modified to accommodate students of any age. Please let the Museum know if any modifications are needed to accommodate students with disabilities. If there is a topic that you would like covered that is not listed here, please contact Museum Educator Tina Smith at 336.758.5643 or smithth@wfu.edu to discuss creating a customized program.
Fees
The fee for curriculum-based programs is $4 per student. There is no charge for accompanying teachers and adults. There is a minimum charge of $80 per class (i.e. if your group has fewer than 20 students, you will pay the minimum fee). For outreach programs, a flat fee will be added to cover the Educator's mileage to and from the school. For virtual programs, fees are $30 for a 30 minute program or $50 for 45-60 minutes. For special programs that include an in-depth craft project the fee will be $5 per student with a $100 minimum.
The total fee is payable by cash or check only to the Lam Museum of Anthropology. Payment is due at the time of the program unless other arrangements have been made. An invoice will be included in a confirmation email four to six weeks before your program.
Make a Reservation
Reservations are required for any group, whether you would like a curriculum-based program or a self-guided tour. Groups without a reservation may be turned away. The maximum group size in the Museum is 50 students. Reservations are accepted on a first-come, first-served basis. Programs can be scheduled Monday through Friday during school hours.
Make your reservation by calling 336.758.5282 or emailing lammuseum@wfu.edu.