During Chinese New Year, no special foods are served but the following items are considered traditional.
New Year's Eve Dinner
The New Year's Eve dinner is the most important meal for Chinese families. Normally, this is the family reunion dinner, especially for those with family members away from home. The majority of Chinese families will gather at a family member's home instead of a restaurant to eat the New Year's Eve dinner. It is customary for fish and dumplings to be served. These two dishes mean "prosperous." Other dishes are served depending on personal preference.
Dumplings
Dumplings are very popular in Northern China and are one of the main dishes for the New Year's Eve dinner. In Southern China, very few people serve dumplings as part of the New Year's Eve dinner.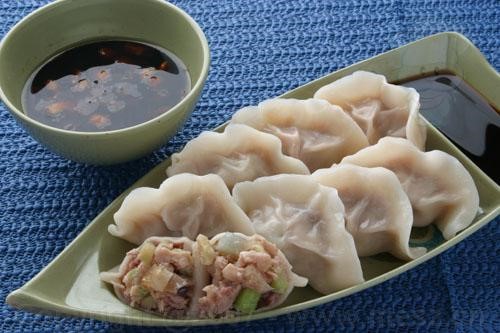 New Year Cake
It is a solid cake made with glutinous rice flour mixed together with some sugar. New Year Cake is popular in Eastern China.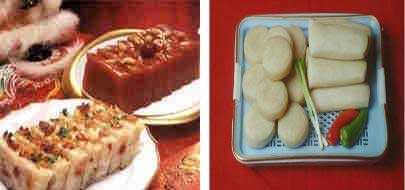 Tang Yuan
Tang Yuan is small ball made from glutinous rice flour. The rice flour is mixed with a small amount of water to form small balls. It is cooked and served in boiling water. Tang Yuan can be either filled or unfilled. It is traditionally eaten on the last day of Chinese New Year's festival.