The Lam Museum is excited to announce its partnership with the University of North Carolina Wilmington to acquire a significant portion of their Museum of World Cultures collection.
Founded in 1981, the Museum of World Cultures was the project of Dr. Gerald H. Shinn, professor of philosophy and religion. Through his own donations and connections to a community of local and alumni donors, the collection grew to include many ethnographic, historical, and archaeological objects from across the globe. Following Dr. Shinn's retirement, the university hired Dr. Joyce Morden in 1995 to lead the museum. She continued to add to the collection, increased student involvement, and pushed to have dedicated exhibit and curation spaces on campus. Unfortunately, she was not replaced following her departure in 1999, and her vision was not fully realized. The collection of over 3,000 objects fell into disuse without a dedicated staff or presence on campus.
Fortunately, the significance of the Museum of World Cultures collection was not lost on the William Madison Randall Library at UNCW. Staff from the Special Collections and University Archives continued to preserve the collection and make it available to faculty and students. They even facilitated a loan of artifacts to the Lam Museum for an exhibit in 2017. With new renovations to the Randall Library, their staff reached out to the Lam Museum about permanently stewarding the Museum of World Cultures collection. It wasn't feasible to acquire the complete collection, so the Lam Museum staff has spent the last year reviewing the collection, travelling to Wilmington, and preparing to acquire this incredible asset—nearly 300 objects that will complement our existing strengths. In early August, Lam Museum staff made the final trip to UNCW to pack the artifacts and bring them to their new home.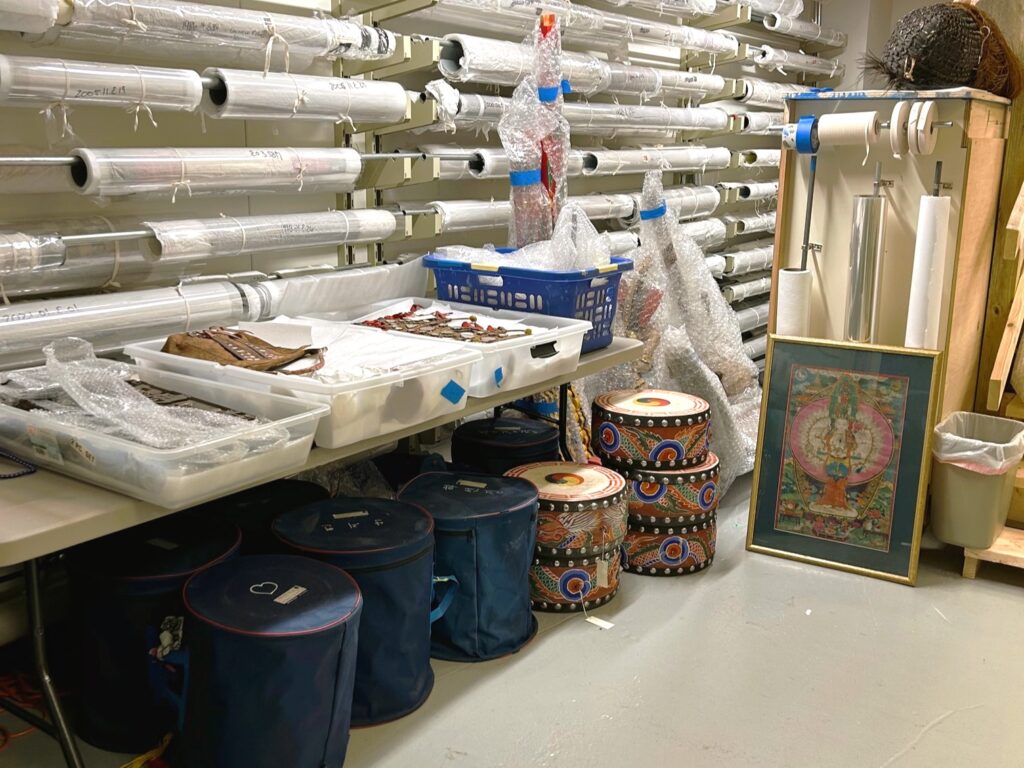 The collection is too large to list in full, but highlights include: a Kuba dance costume (Democratic Republic of the Congo), a Minneconjou Lakota shield (United States), a Mumun-period stone knife (Korea), a Makah fishhook (United States), Qing-period jade toggle weights (China), Bahnar funerary sculptures (Vietnam), a Fon funerary sculpture (Benin), and a Mano Figa amulet (Brazil).
The Lam Museum is proud to be the steward for these and many other objects of cultural significance. The strength of our student engagement, exhibit programming, and outreach will give new life to these objects as they continue the original mission of the Museum of World Cultures. Keep following our progress as we begin the next monumental task of cataloging, researching, conserving, and—eventually—exhibiting pieces from this incredible collection.