The Lam Museum is a valuable resource for Wake Forest students to research material culture from around the world. Over the past year, students who started their research at the Museum have expanded their horizons to international museum collections.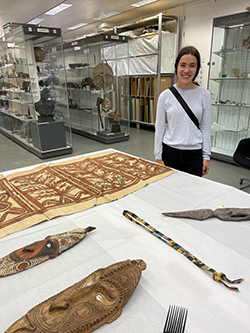 Rebekah Lassiter ('24) first approached the Museum in the fall of 2021 with an interest in Pacific art. She conducted independent research in the Museum's collection to familiarize herself with Pacific styles and materials. Rebekah then worked with Dr. Gurstelle to expand her research into a Richter Fellowship to study Pacific art in museum collections in the United Kingdom and France. Her travels to museums large and small gave her unparalleled access to historical Pacific arts as many of these works only exist in the museums of colonial powers. She was also able gain a greater understanding of collecting and exhibiting practices.
During the past year, Rebekah curated a mini-exhibit of sculptural headrests currently on display in the ZSR library entryway. She also worked on plans to expand this mini-exhibit into a full exhibit that will combine her interest in Pacific art with her studies in health and biology. This summer, through the support of a Page Acree Humanities in the Sciences Scholarship, Rebekah will travel to Hawaii and Australia to conduct additional research in museum collections and visit Samoan diaspora communities in the Pacific. Once she has incorporated this new research into her exhibit, it will open to the public in February 2024.
Zhiqiu (Michelle) Ye ('25) is also expanding her research at the Lam Museum to an international scale. After taking Dr. Gurstelle's Introduction to Museum Studies course, Michelle completed a formal curatorial internship focusing on Tibetan saddle rugs. Her research culminated in a virtual exhibit that will be available on the Museum's website this summer.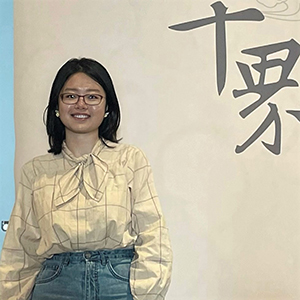 Now, with support from the Richter Scholarship Program, Michelle is traveling to China to conduct research on ancient art and artifacts. Inspired by her work at the Lam Museum and her lifelong dream of becoming a curator, Michelle will investigate Song Dynasty material culture held in the collections of four museums. She will also visit the Changsha Museum and the Tongguan Kilns Archaeological Site, institutions focused on Tang Dynasty Changsha ware, of which the Lam Museum holds a significant collection.
The Lam Museum is proud to have inspired these students to pursue new opportunities in global learning, and we can't wait to hear what they've learned during their summer travels.