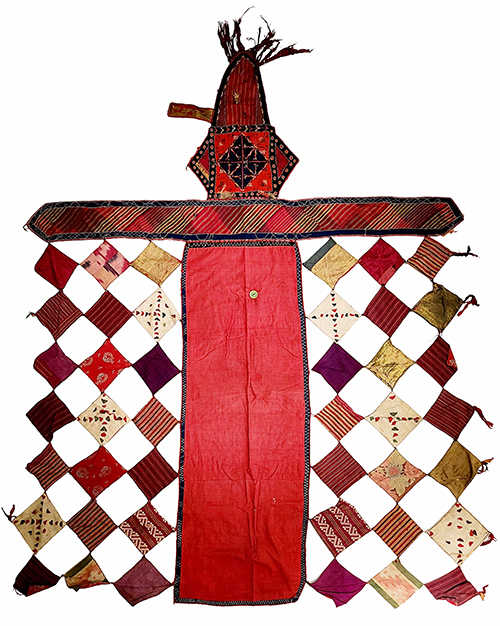 This colorful saddle rug from the late 19th or early 20th century comes from the Uzbek people. The Uzbek are a Turkic ethnic group who make up the majority of the population of Uzbekistan, but also live in surrounding Central Asian countries. They are traditionally nomadic, but most people now live in permanent communities.
This type of "parade" or ceremonial camel cover was not for everyday use. In fact, it played a special role in Uzbek wedding ceremonies. This piece formed part of the elaborate decorations on the bride's camel for her wedding ride from her camp to her new home at her husband's camp. It covered the camel's back, and there may have been other pieces covering its head, neck, and flanks as well. As the bride rode, a procession of family members, also on decorated camels, followed.
Wedding camel covers were often made by the bride to demonstrate her sewing skills and artistry. They are made of an open patchwork of many different fabrics including cotton, silk, brocade, embroidery, and ikat. There are often feathers attached as well, which you can see in the zoomed in photograph below. Although this piece is identified as Uzbek, the Turkmen people also use this style of camel cover to adorn a bride's camel.
This camel cover is part of a 99-piece collection of Asian saddle rugs donated to the Museum in 2011 by the Salgo Trust for Education. Nicholas Salgo was a Hungarian immigrant who became a US citizen, ambassador to Hungary, and an ambassador-at-large under the Reagan administration. He collected saddle rugs, horse covers, and saddles from areas along the Silk Road stretching from China to Turkey.