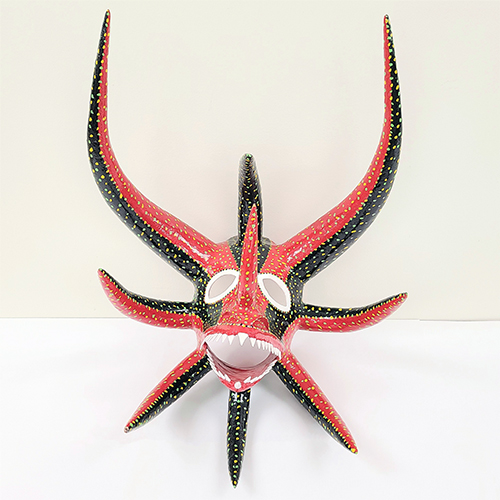 This carnival mask comes from Ponce, the second largest city in Puerto Rico. The Carnival of Ponce dates to the mid-1700s and includes a parade featuring floats, bands, Carnival queens, and a distinctive character known as the vejigante. The vejigante wears a brightly colored costume with bat-like wings and a papier-mache mask like this one. The predominantly black and red colors on this mask reflect the official colors of the town of Ponce. The character's name is a combination of the words vejiga meaning bladder and gigante meaning giant. Traditionally, the character carries an inflated cow or goat bladder used to hit other revelers.
The vejigante is a demonic character meant to scare people, and the mask features sharp fangs and forward pointing horns. Using devil and demon masks during Carnival is a tradition that dates to 17th century Spain, when they were intended to scare people into going to church. The tradition came to Puerto Rico with Spanish colonialization, but the vijigante mask and costume reflect African and Taino influences as well.
Vejigantes can be any gender or age. This mask was intended for a male masquerader because it covers the full face. Women commonly wear partial masks that only cover the upper part of their face. Older versions of the vejigante have an articulated jaw, while more modern ones, like this one, are made as a single piece. Some revelers construct their own masks, but they may also be passed down in the family or purchased from artisans.
This mask was made by celebrated artist Miguel Caraballo, whose work can also be found in the Smithsonian National Museum of American History. Caraballo, now in his 70s, learned how to make vejigantes when he was an apprentice to a woman in his neighborhood as a teen. Caraballo makes the masks with a flour and water paste which is brushed onto layer after layer of newspaper placed over a basic mold. The horns, also made of papier-mache, are then added. Caraballo follows the traditional painting scheme with many tiny dots on top of the primary colors. Painting a single mask can take Caraballo up to two weeks. 
This mask is currently on display in New at the Lam: Recent Acquisitions.
Research assistance for this post was provided by Silver Byrd ('23).