The Lam Museum is excited to present New at the Lam: Recent Acquisitions, which will be on exhibit through August 19.  This colorful exhibition showcases five significant collections donated to the Lam Museum within the last two years.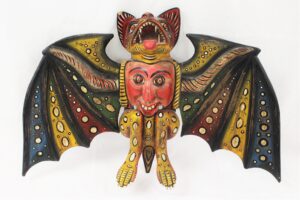 The exhibit features a display of masks selected from the Wallace Collection. Dr. Tim Wallace, a retired associate professor and applied anthropologist at North Carolina State University donated 104 masks to the permanent collection early last year. Dr. Wallace began collecting masks in the 1990s, predominantly from Guatemala, the site of his anthropological fieldwork on tourism and heritage. The masks in the exhibit represent nine countries including Guatemala, Mexico, Bolivia, Peru, and Ecuador.
The Yoruba objects in the exhibit were selected from the most recent donations of Dr. Stanley P. Bohrer.  Dr. Bohrer donated more than 340 objects, primarily from West Africa, to the Lam Museum over more than three decades.  Dr. Bohrer lived in Nigeria from 1964 to 1977, teaching and serving as the chair of radiology at the University of Ibadan Medical School.  During this time, he became interested in Yoruba art and collected pieces made by traditional artisans.
The exhibit also highlights selections from three collections of clothing and accessories. The Grossman Collection focuses on Oaxacan clothing. Sally Grossman and her husband lived in Oaxaca, Mexico during the 1970s and 80s. She had an interest in anthropology and purchased textiles from local artisans to support them and preserve traditional textile-making methods and document changing clothing styles. Mrs. Grossman's nieces donated 57 objects to the permanent collection in early 2022.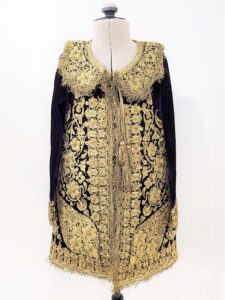 Elena Trayan collected the Albanian clothing on display in the early 1900s. Her family members recently donated 97 pieces to the Museum. Ms, Trayan was a native of Albania who fled the country during World War I but returned after the war as a Red Cross nurse. Many of the textiles she purchased are traditional clothing with intricate embroidery.
The exhibit also features Saudi Arabian clothing donated by Ann Rhea. Mrs. Rhea collected vintage Arab garments while living with her husband near Dammam, Saudi Arabia from 1964 to 1977. She purchased dresses and robes from second-hand clothing vendors at local markets and while traveling throughout the country. She donated 20 pieces to the Museum in May 2022.