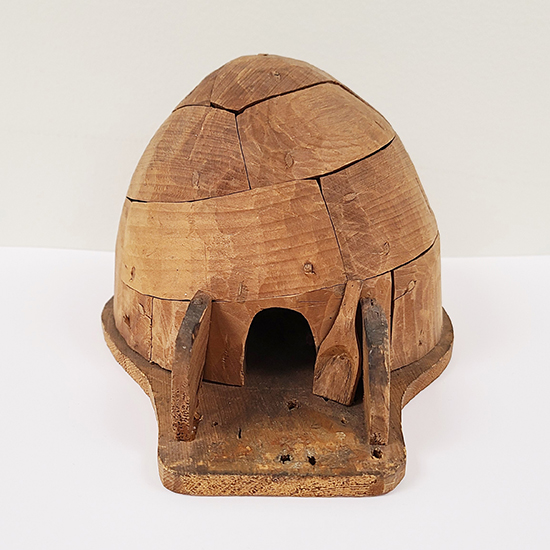 This model was made by a Labrador Inuit craftsman more than 100 years ago and is one of many pieces in the Lam Museum's Moravian missionary collections. Moravian missionaries founded their first community in Labrador, Canada in 1770.  These early missionaries distinguished themselves from their contemporaries by their knowledge of, and respect for, the Inuit language. Respecting indigenous crafts and languages was foundational to future Moravian missions in the Americas.
More Labrador missions were established over the next 150 years. This igloo model was likely made near the Moravian mission station at Makkovik, established in 1896. Missionaries regularly traveled between Moravian communities in the United States to lecture about the Inuit way of life and the mission's influence. Lecturers used Inuit-made models to demonstrate elements of the culture, such as transportation, architecture, and clothing.
Moravian congregations in the United States were fascinated by Inuit architecture, especially the igloo. Igloos are temporary homes for the winter months. They are constructed of snow blocks arranged in a spiraling pattern, as the model demonstrates. This model also has a square cut out of the back so viewers can see the furnished interior. It is likely that the Inuit artists who created these models were interested in Western architecture as well. The Makkovik mission buildings arrived prefabricated, funded in part by the sale of handicrafts and souvenirs supplied by Inuit artists.