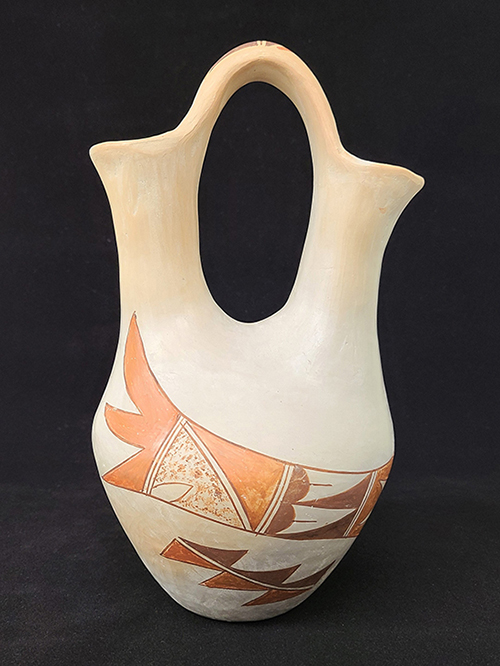 Hopi potters draw on traditions that go back more than one thousand years. Traditionally, Hopi pottery is made solely by women. This vase was made by Pauline Setalla (1930-), as indicated by her signature and a painted bear claw on the bottom. Setalla was raised in the Mishongnovi village on the Second Mesa. She learned pottery making techniques from her mother-in-law and sister-in-law. Setalla's pottery is made from native clay and formed using the traditional coil method. It is decorated with traditional designs using vegetal paints. Although she has retired from pottery making, some of her children are carrying on her legacy.
This type of vase is known as a wedding vase. The two spouts represent the two people being married with the handle unifying them. This style originated with Pueblo peoples, and today it is used ceremonially by eastern Pueblo people in New Mexico and the Navajo among others. For the Hopi, wedding vases are not used ceremonially, but have been adopted as an art form.
Hopi weddings can take years to complete. The culmination of the wedding takes place in the pre-dawn hours with the couple accompanied by their female relatives. The bride and groom kneel in front of bowls in which they pulverize yucca roots and mix them with warm water. Within the context of the ceremony, this mixture becomes a sacred substance. The mothers of the couple getting married then use the mixture to wash the bride and groom's hair. While the hair is still wet, they briefly intertwine the couple's hair uniting them and consummating the marriage.
Assistance with this post was provided by Hopi artist, poet, and educator Ramson Lomatewama.