Dating back to the Spanish Colonial period, nichos are a type of folk art popular throughout Central and South America. They began as an adaptation of the Roman Catholic 'retablo', which is a painting of a patron saint on wood or tin. In different places, nichos may be called by a local name or still called a retablo.
A nicho box, or simply nicho, is a three-dimensional display box, like a shadow box. Traditionally, they combined elements from Roman Catholicism, mestizo spirituality, and popular culture. Today, nichos can be created as shrines to important people or loved ones or used for protection or devotion.  They can display political themes, scenes of everyday life, or images of saints or other deities.
Nichos can be made and displayed at any time of the year. However, many people include nichos as part of their Day of the Dead decorations and on ofrendas.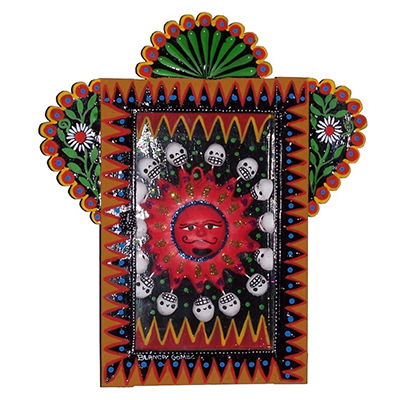 Each nicho has a key object or central figure that the nicho is based on. They are made with easily purchased, readily available, or household material. The display box used to create a nicho can be made of common materials like wood, tin, glass, cardboard, or even cigar boxes. Colorful materials like pictures, images from magazines, stickers, fabrics, paints, papers, flowers, jewelry, toys, glitter, sequins, wood, and tin pieces can be used to decorate nichos.
Each nicho is unique and special because it is filled with items that are special to the person who creates it.
Let's make a nicho!
You will need:
Toilet paper tube
Images or mementos for person being remembered (from magazines, internet, pictures from home)
Craft paints
Brushes
Water containers
Markers
Colored pencils
Construction paper
Glue
Scissors
Optional: Stickers, flowers, jewels, glitter, wooden or metal cutouts
Instructions:
Gently fold the cardboard tube in half without creasing it. Use sharp scissors to cut a shape out of the cardboard. Leave plenty of space above and below the frame cutout so the nicho remains strong and can stand on its own.
Open the cardboard tube back up and fold in half the opposite direction, creasing it this time. This will leave your cut shape as the framed opening on the front half of the tube.
Cut cut shapes out of the top of the nicho if you wish.
Either paint or color your nicho. If painting, do the front and back, then set it aside to dry. After completely dry, come back and paint designs on top of the base color. If coloring use markers or colored pencils to create wonderful designs. Nichos are traditionally bright and bold, using lots of contrasting colors.
Once dry put religious, pop culture, Day of the Dead, or family images on the inside of the nicho. Images should be meaningful to you, of something or someone you want to remember or memorialize.
Decorate the exterior of your nicho with anything you can imagine or find. Adding things that represent the person being remembered is a way to add meaning to your nicho.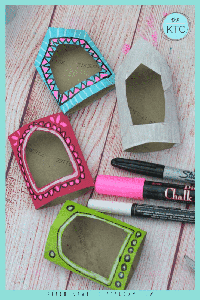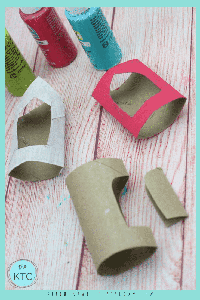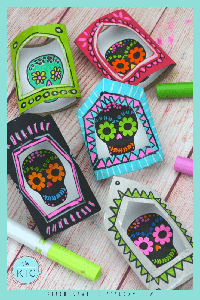 Using the same steps, nichos can be created with a shoe box, small gift box, or wooden box.