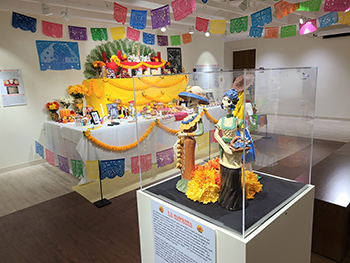 An annual tradition for more than 20 years, the Lam Museum's Day of the Dead exhibit is bigger and better than ever this year. Occupying the central gallery, Life after Death: The Day of the Dead in Mexico, will be on display through December 9.
Día de Muertos is celebrated in Mexico over several days coinciding with the Catholic observances of All Saints' and All Souls' Days (Nov. 1 and 2). The holiday has roots in both ancient pre-Hispanic celebrations and medieval Spanish Catholic practices and has evolved to feature a blend of elements from both traditions. The celebration is a festive time when families remember their dead and honor the continuity of life.
Our annual exhibit honors this unique celebration. The exhibit's centerpiece is a traditional ofrenda, an altar with food and beverage offerings, flowers, sugar skulls, and photos of deceased family members. The colorful exhibit includes information on the celebration's history and its unique skeleton-themed folk art. This year, the largest ever installation, also includes a cemetery display and a discussion of the commercialization of the holiday in the United States. Visitors are invited to leave their own offerings in the form of a message on a paper flower. The exhibit presents text in English and Spanish.
This year's exhibit will also include Day of the Dead inspired artwork by middle school students. During the month of September, Museum Educator Tina Smith will be working with the Art Club at Northwest Middle School to introduce the celebration and its many associated art forms and lead them in creating their own artwork that will then be displayed in the Museum.
The Museum will hold two events tied to the exhibit. In celebration of Hispanic Heritage Month, on September 20 at 5pm, mariachi musician Josie Borges will present "Reviving Mariachi" at the Museum. She will perform and discuss all the mariachi basics and its revival in the United States.
On Saturday, October 29, we will host a Day of the Dead Open House from 11am to 4pm. There will be fun for all ages with craft activities, live music, and authentic Mexican food available for purchase. We hope to see you here!