Recent Donations Enhance Latin American Collections
Main Content
The Lam Museum recently accepted two large donations of artifacts that will significantly augment our Latin American permanent collection, as well as add to our education collection which is used to provide hands-on learning opportunities for K-12 students.
Dr. Tim Wallace, a retired associate professor and applied anthropologist in the Department of Sociology and Anthropology at North Carolina State University, donated 104 masks to the permanent collection and 41 masks to the education collection. Dr. Wallace began collecting masks in the 1990s, predominantly from Guatemala, the site of his anthropological fieldwork on tourism and heritage. Many of the masks represent specific characters in traditional Guatemalan ceremonial dances.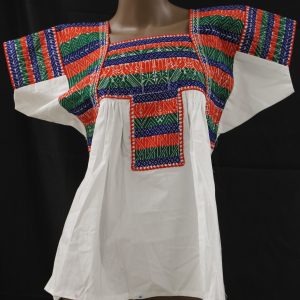 Emily and Anna Buehler donated clothing and other textiles and objects from Oaxaca, Mexico, that were originally collected by their aunt, Sally Grossman. Mrs. Grossman was best known as the woman on the cover of Bob Dylan's album Bringing It All Back Home and the wife of Dylan's manager at the time. She and her husband had a house in Oaxaca during the 1970s and 80s. She had an interest in anthropology and purchased textiles from local artisans to support them and to preserve traditional textile-making methods and document the changes to clothing styles. The Buehler donation includes 57 objects for the permanent collection, sixteen for the education collection, and fourteen for the Day of the Dead exhibit.