As children are returning to school and parents are returning to the office, I thought I would spotlight the museum's recycled lunchbox and briefcase from Senegal.
Where is Senegal?
Senegal is a West African country with mostly a desert like climate, although there is a rainy season. The smallest African country, The Gambia, separates Senegal's southern region from the rest of the country. Dakar is the capital, largest city, and the economic and political center of Senegal.
Senegal's population of around 16 million includes a wide mix of ethnic groups: with the Wolof, Fula, and Serer people being the largest. However, the population is also made up of smaller communities of Vietnamese, Lebanese, French, and Moroccans.
Senegal is a melting pot of languages. Around 39 distinct African languages are spoken in Senegal. Because Senegal was colonized by France, French is the only official language. However, there is a national movement that supports integrating the Wolof language into the country's constitution.
Recycling
In Senegal, Mali, Kenya, and many other African countries, piles of discarded and rejected, everyday items (trash) are recycled to create new objects and art pieces. Some of the most favored recycled objects come from vehicles, bicycles, skateboards, electronic devices, fuel, and oil containers. Other materials used are tin cans, sheet metal, wire, fabric, cardboard, newspapers, and anything plastic. The list of materials that can be recycled is inexhaustible!
Recycled objects are often used just as they are found. However, artisans, craftsmen and women alter and adapt these materials to create animals, bags, lunchboxes, trunks, baskets, pots, mirrors, toys, sculptures, jewelry, furniture, art pieces, masks, and many other objects.
In Senegal, objects made from recycled materials can have different uses and meanings. Sculptures and art pieces may contain ideas, a social or political message, or they may be purely for aesthetics. Jewelry, toys, and lunchboxes might be created for personal use or the tourist trade.
Check out these links to learn more: BBC News Africa and Museum of International Folk Art for the exhibit Recycle: Reseen
The Lam Museum's lunchbox and briefcase are created from sheet metal that was rejected by local canneries. Because these items were made using reclaimed metal, any flaws, dents, and scratches are a part of each box's surface. Colorful French comic strips have been used to cover the interior of each box. By purchasing the lunchbox and briefcase, the museum supported African craftsmen and women.
Let's Make a Recycled Treasure Box!
Remember the lunchboxes and briefcases from Senegal are decorative and colorful. Each one is different, so make your box as unique as you are!
Here's what you'll need:
• Box with a lid attached (a shoebox works perfectly)
• Newspaper or plastic tablecloth to cover your work area
• Scissors
• Hole punch
• Rope, cloth or twine to make a handle and closure
Options for decorating your box:
• Tissue paper, construction paper, contact paper, newspaper, scrapbook paper, felt (something to cover the inside and outside of the box as a base layer)
• Glue (Elmer's, Mod Podge, hot, or spray)
• Paintbrushes
• Markers, colored pencils, or crayons
• Pictures, flowers, stickers, ribbon, jewels (decorative embellishments)
Instructions:
Children may need some help from parents depending on the materials used to decorate the box.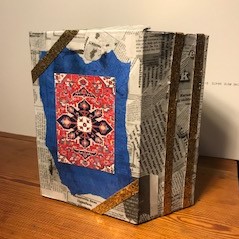 1. Cover the outside of the box with your choice of material (tissue paper, construction paper, contact paper, newspaper, scrapbook paper, felt).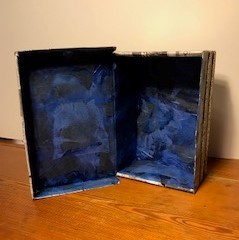 2. Cover the inside of the box with your choice of material (tissue paper, construction paper, contact paper, newspaper, scrapbook paper, felt).
Suggestion: Use Elmer's glue or Mod Podge if you are covering the inside and outside of your box with tissue paper, construction paper, newspaper, or scrapbook paper. Use a paintbrush to spread a thin layer of glue/Mod Podge then adhere paper. Use spray glue if you are using felt to cover the inside or outside of your box.
3. Let base layer dry.
4. Add decorative embellishments.
5. Use scissors or hole punch to put two holes in the side of the box that opens for the handle.
6. Thread material for handle through the holes and tie ends on the inside of the box.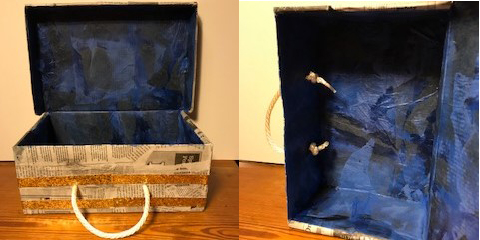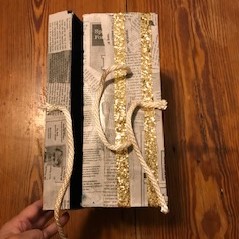 7. To create a closure for your box glue 2 pieces of rope, twine, or ribbon to the open side of the box. Glue one piece to the lid of your box and the second piece to the side of the box.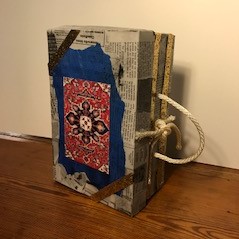 8. Enjoy your completed treasure box.